Renée Oates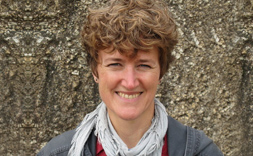 With a background in ballet, contemporary & Jazz dance, Renée continues to train under international instructors in all areas of her work. She has been teaching Abhinaya Dance since 1994, Body Control Pilates® since 2008 & the Tower since 2010.
Renée also continues to perform and choreograph with collegues around the world.
Renée teaches 'from the inside', where a love of harmony unites with an understanding of the body's natural design.
Informed by both universal principles and a respect for each individual as unique, she safely guides clients towards their desired outcomes.
For more information on the Tower, go to http://www.gyrotonic.com/
Skills

Private, Duet and Group Classes.
Body Control Pilates® Matwork (all levels) using Therabands, dumbbells, magic circles, small overballs, larger gym balls, disco sits & rollers to achieve stability, strength & flexibility.
Tower, Mat & chair work to achieve joint & spine mobilisation, muscular strengthening & stretching, & fascia release.
Abhinaya Dance using rythm, gesture, Sanskrit & music to achieve harmony, clarity and peace in all aspects of ones being

For more information on the Tower, go to http://www.gyrotonic.com/

 
Gallery

previous

next

&nbsp