Abhinaya Dance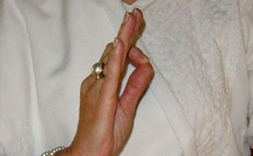 It's easy to get caught up, and experience anxiety & stress. This dancing meditation can help you reconnect with lightness & clarity.
It can change the flavour of your everyday ...
"To be what you are, you have to come out of what you are not."
Accessible to everyone
About Abhinaya Dance

Origins

Abhinaya Dance draws on classical Indian dance styles to represent Sanskrit statements of non-dualism, and to harmonise the being.

Using hand gestures and foot rhythms to represent a different way of viewing the world, you can shift perspective through direct experience.

Based on sound philosophical principles, the dances bring energies into balance in a fun way, leaving you revitalised and centred.

Still point

Stillness underlies all movement. "At the still point of the turning world... there the dance is..."

Attention

Each movement is an opportunity for fine attention. "Ultimately, whatever we experience is a result of the quality of our attention." (Deepak Chopra)




 

Testimonials

Abhinaya Dance wakes me up and calms me down at the same time. It brings things more into balance.

The beauty and grace of the movements is very attractive. It is changing my body-image, my self-image.

 
Gallery

previous

next

&nbsp